Tulip's Turd Tunnel - What Girl Ass Does Best (2022 | UltraHD/2K)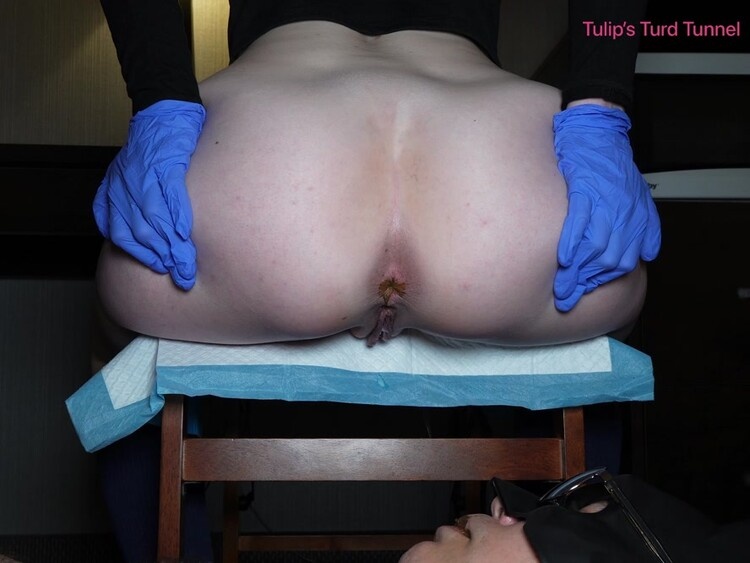 Tulip's Turd Tunnel - What Girl Ass Does Best
Here are some quotes from Tulip:
I am going to prove to men that women do not have nice smelling shits. Fucking stinky ones, just like you men do. And these videos are going to prove that to men. That is part of the reason why I do them. So that men can fucking understand. Womens shit stink. They do not smell like tulips and roses.
That turd in your mouth fucking stinks. It felt spicy coming out of my ass. Is it spicy for you, Poo-vert? It does not taste good at all. It is fucking nasty. That is what this beastly, beautiful, bare bum produces. Nasty, stinky shits.
Look at that brown shitter. It is all fucking brown. Let me show the camera more. Stinky caca. Coming out of this beautiful, feminine fecal-factory. It is so fleshy and feminine. These round globes of feminine beauty. I have such a beautiful bum. But that shit, it is just so stinky and disgusting. It is so fucking stinky.
How can such a beautiful thing produce such a disgusting, smelly pile of shit. I do not understand. Such a contrasting thing of a beautiful ass and such a stinky thing that comes out of it. And why are you such a Poo-vert that you love it so much?
Stroke that little cock. You love this fleshy, feminine fecal-factory. Tulips turd-tunnel. And every turd that comes out from between these beautiful round globes. Fat, stinky logs. Straight into your mouth. And down your throat. Until you create your own logs from my logs. It is just a whole bunch of recycling. The best kind of recycling. Who does not want to fucking taste the shit that comes out of a beautiful, beastly, bare bum?
I would like to have some more worshippers, one day. Give my caca to other men, as well. As long as they share your same perverted view.
Tell me, do you think these videos are going to help men understand that women do not have pretty shits? Do you think it will help get the point through that women also have stinky, nasty, smelly shits, just the way that you men do? Do you think this will help them understand that? They will see stinky shit from my ass, go into your mouth. And hear about how we talk about how stinky it is. If only they could smell it through the video. It is too bad. They can not experience and worship me in the same way that you get to. They do not get that privilege. Do they? They probably wish that they were my toilets.
Tulip's Turd Tunnel - Supremacy of Girl Ass
Here are some quotes from Tulip:
You have been blessed by Tulips turd-tunnel on more than one occasion. And you just truly, truly worship, every single time. You have yet to fail me. You have just proven devoted to Tulips turd-tunnel. You truly are the number one Poo-vert. Number one Poo-vert of them all. You do not take for granted my naked, stinky, smelly ass.
Every time it is in your presence, you worship it. Whether it is shitting on you, or not.
The great, glorious girl-ass of mine. Fleshy and feminine. Stinky and womanly. So stinky, yet so beautiful.
You may continue to worship, until you cum. And even then, once you go home, you are going to continue to worship it. You are going to jerk your little cock off, thinking about Tulips turd-tunnel. Thinking about the stinky, smelly turds that came out of it.
It never smells like flowers or tulips. My turds always stink to high heaven.
Continue to show me your worship by stroking that little cock, smelling my stink, and looking at my naked, brown hole, as I expose it to you.
Continue to think of all the guys who fucked my turd-tunnel. And think about how they have never seen my shit. Never smelled it. Never tasted it. Not like you.
Unlike those other men, they only smell me, smell my sweat, maybe. Maybe get a fart or two. They do not get the full Tulip that you do. They do not get the overpowering stink of my shit. They do not get to watch my poo-hole turn from pink to brown. They do not get to see my turd-tunnel stretch around a fat piece of caca.
Lucky you. Fuck that stinks. And here you are, just eating it. Does it taste as bad as it stinks?
Are you savouring it in your mouth, right now? Waiting until you bite into it. Releasing more of that stink, with each bite.
This is a glorious girl-ass, that is always deserving of being worshipped. Because it is always fleshy, always feminine. And it will always produce big, fat, stinky turds. Until the day I die.
Tulip's Turd Tunnel - Love Everything about Girl Ass
Here are some quotes from Tulip:
You are just going to jerk your tiny dick, looking at my brown, turd tunnel. It was pink just two minutes ago. You are just going to watch the brown hole pucker. As you are going to stroke your little cock. You are going to worship this shit-hole as thoroughly as you can.
Tulips turd-tunnel is what gets you off. And everything that comes out of it. You inhale the farts. Eat my shit. Sometimes, I sit on your face. Pressing this shitty, brown hole against your face. Such a direct connection.
Most men can not even fathom this worship that we do. They only push things into my poop-pipe. They can not imagine taking things out. But not you. You know how to truly worship glorious, girl-ass.
This brown-eyed girl, winking at you. Stroke that little cock, Poo-vert. Stroke it for me. Show me that you truly worship this, truly appreciate it. I will only know, once you come. I want you to show me your dedication. Just eating my caca is not good enough. I need that little cock to cum for me, too.
You just ate my shit and you love it. You love it so much. You just love eating my caca. You love the thorough worship of this glorious, girl-ass.
This whole room fucking stinks. It stinks so bad. You are inhaling all of that.
I was farting really bad on my way here, too. Just holding in that shit, so I can deliver it to you. A fresh hot, steamy package.
Tulip's Turd Tunnel - Girlfriend's Shit Bakery
Here are some quotes from Tulip:
Are you happy that your girlfriend is a proud pooper? And not a shameful shitter, like your ex-girlfriend? How much of a shameful shitter do you have to be to even close the door, to not even let your boyfriend smell the turd that you just took in the toilet? That is not right to me. It seems too much.
That is why I am here to display what a proud pooper, I am. Shitting straight from my feminine fecal-factory, into your crap-catching mouth. You are so lucky. So lucky to be there to catch the crap that comes out of my crap-cave.
Catching a warm, brown baguette that comes out of my crap-factory. As, I proudly push it out into your mouth. Making that caca connection. I pushed out a fat, long turd, today.
Do you want to see that brown shit-hole? I just pushed out a fucking turd, onto your face. Keep stroking that little cock, as you think about how lucky you are to have a girlfriend, like me. Who is as giving as me. Who pushes out fresh, warm caca doo doos, for you. From my naked, stinky girl-ass. All of my shit is yours to consume. Remember that.
This is your Sunday worship. I do not think it is a coincidence that we do this on Sundays.
I just took a nasty shit, on your face. And yet, you still want to pledge your allegiance. Even after this beautiful, bare, beastly bum produced a big, fat, stinky, smelly turd. You still pledge your allegiance. That says a lot, Poo-vert.
Unlike your ex-girlfriend, I want you to see my naked, shitty, stinky ass. I want you to smell the produce of my stinky shit. I want you to see my crap-factory turn from pink to brown.
I love producing fresh, warm baguettes for you. Giving you a brown baguette for breakfast. A stinky, filthy, brown baguette.
An ass, unlike your own, that is desirable, and not hairy. But still is stinky and shitty, as ever. Both our asses produce probably the same amount of shit. But why is it that mine is so desirable and beautiful? But yours is not?
Even after I just took a big, nasty, fucking turd, from my bare ass, onto your face. If anything, that makes you desire my ass more.
Beauty and the beast. Beastly shit. Beastly stink. Beastly, shitty, stinky turd. That comes out of this crap-cave. This shit-hole. This turd-tunnel.
I just took a big, fucking, filthy shit, in your mouth. Unlike your ex-girl-friend, I want you to see how filthy, how shitty, how crappy my crap-cave can truly be. I want you to know what my shit looks like. What it smells like. What it tastes like. And to witness my poop-hole turning from pink to brown. And it is in need of a good wipe. And yet, you still jerk your little cock, looking at my shitty, brown hole. You inhale the scent of my shit, and stink, as you jerk that little cock.
You are addicted to that beastly stink. The stink never smells like flowers. Never smells like tulips. And I am proving to you, over and over again that it always fucking stinks.
Name Porn:
Tulip's Turd Tunnel - What Girl Ass Does Best
Year:
2022
Info:Duration:
00:21:35
Quality:
UltraHD/2K
Format:
MPEG-4
Size:
2.09 GB
Genres:
shitty anal, slavegirl in shit, poop porn, poo video, pooalina, poop in pantyhose, japanse porn, scatting game, milf scat, group scat, tube scat, prolapse with shit, pooping girls, japanese scat video, shit girls, pantyscat, eating shit

Related videos: